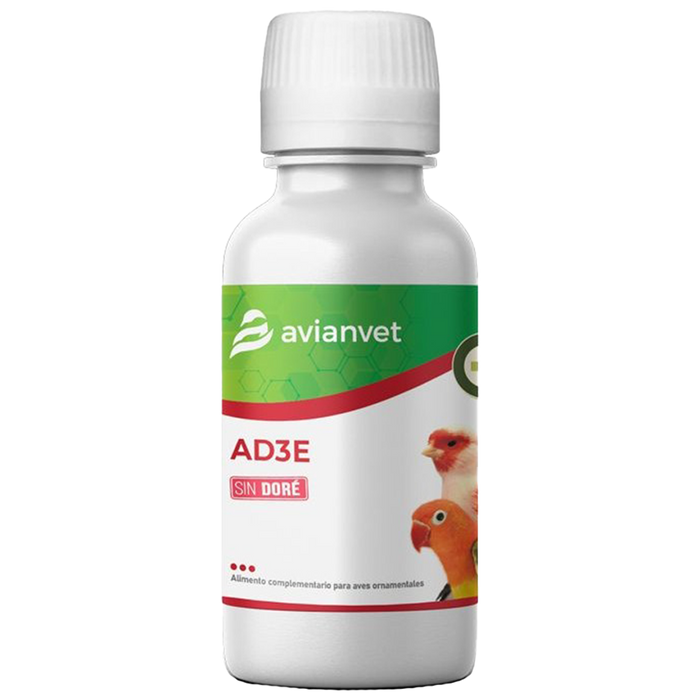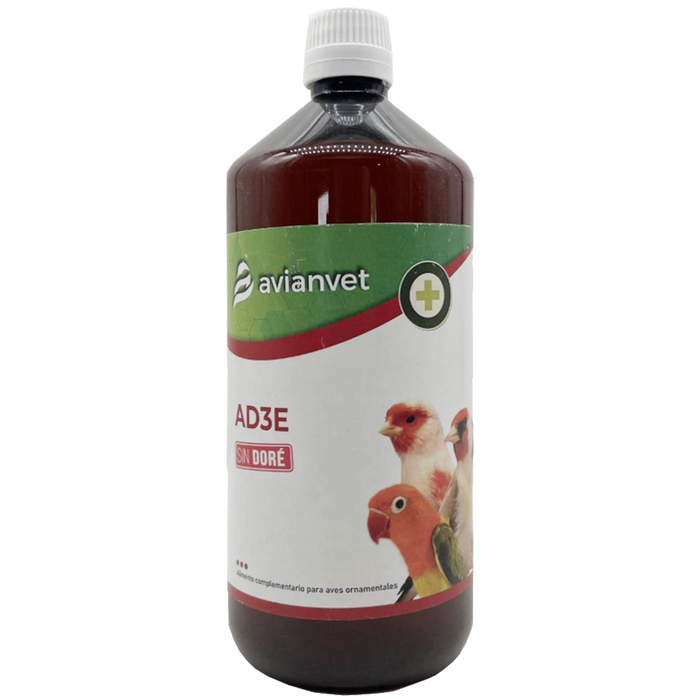 AD3E WITHOUT DORÉ Avianvet is a complementary food for birds that contains vitamin A, vitamin D3, vitamin E and vitamin C.
AD3E vitamin supplements can be used during the preparation of breeding birds before and during the breeding period.
Composition of AD3E WITHOUT DORÉ:  Calcium chloride 18%; Propylene glycol.
Additives per kg: Nutritional additives: Vitamin A(3a672b) 5,000,000 IU; Vitamin D3 (3a671) 200,000 IU; Vitamin E (3a700) 2,500mg; Vitamin C (3a300) 5,000mg.
Analytical components: Crude protein 0.01%; Crude oils and fats 1.10%; Crude fiber 0.01%; Raw ash 17.50%; Humidity 78.50%; Lysine 0.00%; Methionine 0.00%; Calcium 6%; Sodium 0.13%; Potassium 0.25%; Chlorine 11.0%.
Target species:  Ornamental birds.
Instructions for use and use of AD3E WITHOUT DORÉ: Administer the amount of 2 ml/liter in the drinking water in batches of 4 days during the 4 weeks prior to breeding.
Presentation of AD3E SIN DORÉ: 33.8 oz bottle (1 Liter), 3.38 oz bottle (100 ml)
Complementary feed for ornamental birds
Free of carotenoids. Does not produce "doré" effect