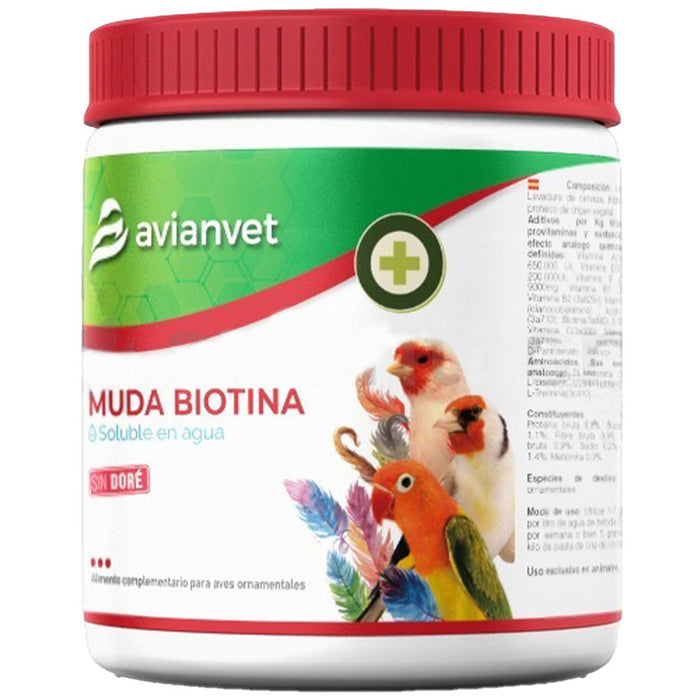 Avianvet Muda Biotina 100 g
MUDA BIOTIN AVIANVET is a water-soluble powder supplement to promote bird moulting, improve plumage shine and strengthen the immune system.
MUDA BIOTINA is a special preparation for molting, composed of vitamins, amino acids and brewer's yeast with prebiotic and probiotic activity and that provides nucleotides for a strong immune system.
MUDA BIOTIN, contains MORE BIOTIN than classic molting supplements such as BIO and Mutavit.
MUDA BIOTINA AVIANVET can be administered in drinking water at a rate of 1-2g liter or in breeding paste or feed at a rate of 5 grams per kilo.
MUDA BIOTIN AVIANVET is the ideal supplement for molting. Best VALUE FOR PRICE on the market
Composition: Lactose, Brewer's yeast, Vegetable protein hydrolyzate. Additives per Kg. Vitamins, provitamins and chemically defined substances with a similar effect: Vitamin A (3a672a) 650,000 IU; Vitamin D3(3a671) 200,000UI; Vitamin E (3a700) 9000mg. vitamin B1 (3a820); vitamin B2 (3a825ii); vitamin B12 (cyanocobalamin); folic acid (3a710); Biotin(3a880) 3,000mg; vitamin C (3a300); vitamin K3 (3a710); Niacin(3a314), D-calcium pantothenate (3a841). Amino acids. Its and analogues: DL-Methionine (3c301); L-lysine (3C322); L-tryptophan(3c440); L-Threonine(3c410). Analytical constituents: Crude protein 8.9%; Crude fat 1.1%; crude fiber 0.9%; Raw ash 2.9%; sodium 0.2%; Lysine 1.4%; Methionine 0.9%.
Target species: Ornamental birds
Mode of use: Use 1-2 grams per liter of drinking water 2-3 days a week or 5 grams per kilo of continuous breeding paste. Exclusive use in animals.
Presentation : Package of 100 grs