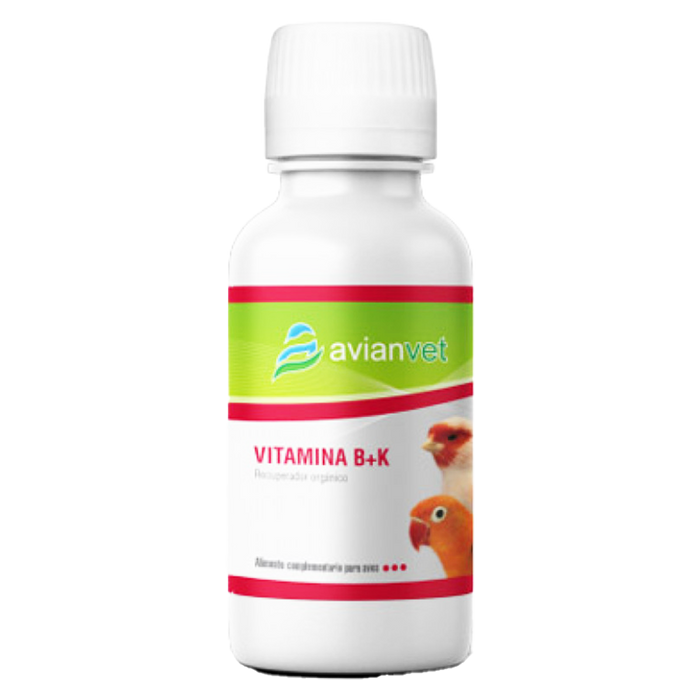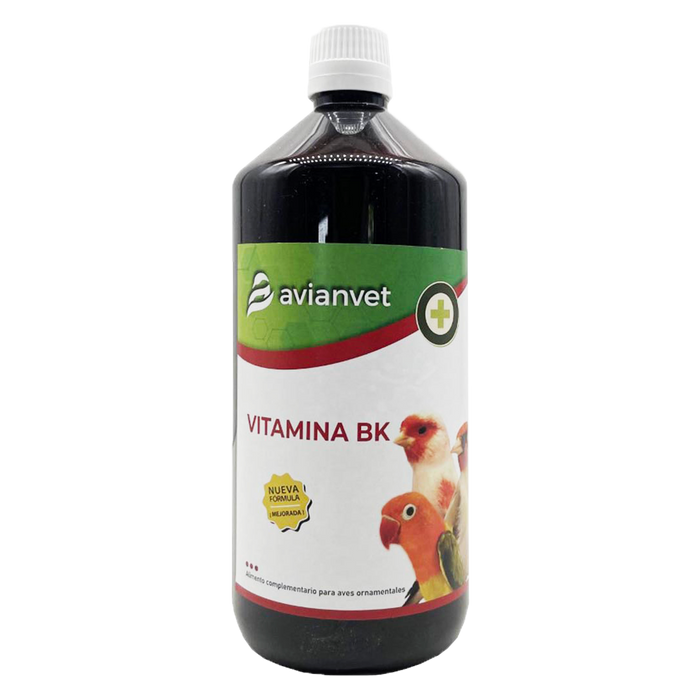 Vitamin B+k Avianvet is a complementary food for birds rich in B vitamins and vitamin K. It also contains choline chloride and amino acids.
Composition of Vitamin Bk Avianvet: Propylene glycol, 30%; Magnesium sulfate heptahydrate.
Additives per liter: Vitamins, provitamins and chemically well-defined substances with a similar effect per liter: Vitamin B1 (3a821) 5,000mg; Vitamin B2(3a825i) 3,000mg; Vitamin B6 (3a831) 3,000mg; Vitamin B12 5mg; Vitamin K3(3a710) 2,000mg; Choline Chloride (3a890) 42,000mg; Niacinamide (3a315) 25,000mg; Biotin (3a880) 400mg; Pantothenic alcohol (3a841) 15 mg.
Amino acids, their salts and analogs: Alanine 8,400mg; L-Arginine (3c361) 14,350mg; aspartic acid 14,850 mg; Cysteine(3c391) 2,100mg; Phenylalanine 9,200 mg; Glycine 10,000 mg; glutamic acid 32,000mg; Histidine(3c352) 3,950 mg; Isoleucine (3c381); Leucine(3c382) 13,500mg; L-Lysine(3c323) 10,000mg; DL-Methionine (3c301) 5,600mg; Proline 7,260 mg; Serine 8,700mg; Tyrosine(3c401) 9,200mg; L-Threonine(3c410) 6,100mg; L-Tryptophan(3c440) 2,100mg;L-Valine(3c370) 9,700mg.
Analytical components: crude protein 2.8%; crude fiber 0%; crude oils and fats 0.2%; Gross ashes 1.4; Lysine 1%; Methionine 0%; Sodium 0%.
Target species: ornamental birds.
How to use Vitamin Bk Avianvet : Use 2ml per liter of water for 5/7 days. It can be used in the preparation of the reproductive specimens for the preparation of the breeding, in breeding and in moulting.
Presentation of Vitamin Bk Avianvet:  33.8 oz (500ml) bottle with dropper, 3.38 (100 ml)
Complementary feed for ornamental birds