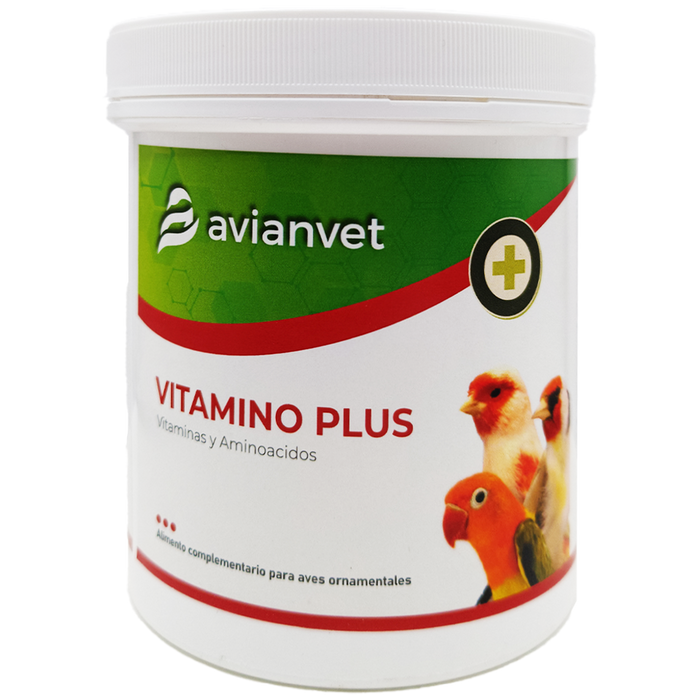 Vitamino Plus Avianvet  is a complementary food for birds. Powdered supplement of essential vitamins and amino acids for caged birds.
Vitamino Plus Avianvet can be administered in periods of breeding, moulting and times of stress.
Composition of Vitamino Plus Avianvet:  Magnesium sulfate 12.5%, Sorbitol 10%, Dextrose 4.7%.
Additives per kg: Vitamins, provitamins and chemically well-defined substances with a similar effect: Vitamin A (3a672): 337,500IU; Vitamin D3 (3a671): 66.5000IU; Vitamin E(3a700): 1,000IU; Vitamin B1(3a821): 1250mg; Vitamin B2(3a825i): 875mg; Vitamin B6(3a831): 550mg; Vitamin B12: 1.25mg; Vitamin C(3a300): 10,000mg; Vitamin K3(3a710): 1,000mg; Niacin(3a314): 12,500mg; Calcium pantothenate(3a841): 1,750mg; Folic acid(3a316): 125mg; Biotin(3a880): 0.5mg.
Anti-caking agents: Sepiolite (E562) 490,000mg.
Amino acids, their salts and analogs: DL-Methionine(3c301): 50,000mg; DL-Carnitine(3a910): 25,000mg; L-Lysine(3c320): 20,000mg; Glycine: 6,780mg; L-Arginine (3c361): 4,950mg, Aspartic Acid: 4,680mg; L-Phenylalanine: 4,180mg; L-Histidine(3c352): 3,850mg; Glutamic Acid: 3,780mg; L-Arginine(3c361): 3,180mg; Isoleucine(3c381): 2,400mg; L-Threonine(3c410): 1790mg; L-Tryptophan(3c440): 1,000mg; L-Cysteine(3c391):850mg.
Analytical components: Calcium 0%; phosphorus 0%; Sulfur 3.3%; Magnesium 2.5%; Sodium 0%; Total sugars (Sucrose) 3%.
Target species: ornamental birds.
Mode of use and administration of Vitamino Plus Avianvet: Use 5 grams per kilo of pasta or food for 5 days as a food booster. It can be used during the preparation of parent stock for rearing and during rearing. During moult use 3 g per kilo of pasta or food.
The product contains small calcium carbonate granules that act as a mineral source.
Presentation of Vitamino Plus Avianvet:  container of 125 g and 250 g.
Exclusive use in animals.
Complementary food for ornamental birds.