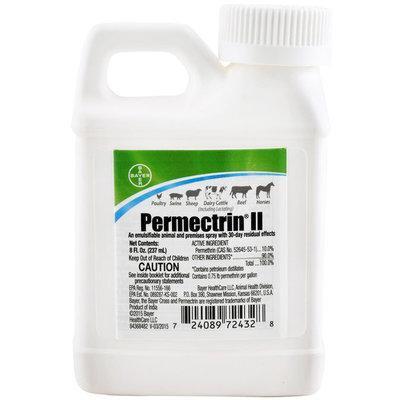 Permectrin II Insecticide
DESCRIPTION
Permectrin II Insecticide
Contains 10% Permethrin. For use on horses, beef and dairy cattle, swine, sheep, poultry, dogs and their premises. 
PERMECTRIN II INSECTICIDE IS BEST FOR: 
horses
beef and dairy cattle
swine
sheep
poultry
dogs
premise
PERMECTRIN II IS USED TO AID IN THE CONTROL OF:
lice, flies, ticks (including ticks that carry Lyme disease)
fleas
spiders
mosquitoes
cockroaches
Apply as a spray, dip or on a back-rubber. Offers a 30 day residual effect. Easily mixes with water or mineral oil. 5-day slaughter withdrawal for swine.
To use as a premise spray: 8 oz makes 6¼ gallons or 1 qt makes 25 gallons.
For use on animals: 8 oz makes 3 gallons; 2½ oz (5 tablespoons) in 1 gallon and 20 mL (4 teaspoons) in 1 qt. water.
DO NOT USE ON PUPPIES UNDER 3 MONTHS.
View manufacturer and/or label information
Any use of a product that is not clearly defined on the label directions should be done only under supervision of a qualified veterinary professional.