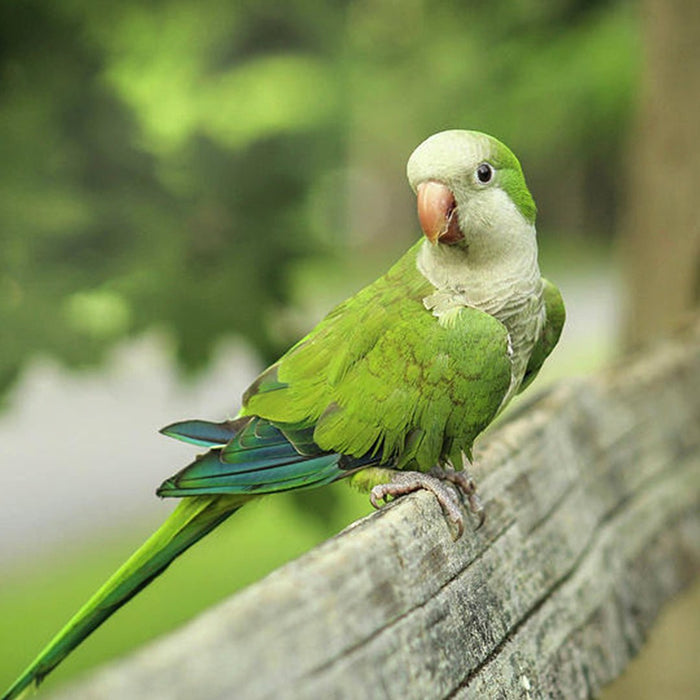 Quaker parrots are known for their charming, comical personalities and their willingness to learn human speech. It is an excellent choice for bird lovers who want all the fun of a large parrot in a smaller package. They are a popular pet, good for dedicated beginners, and adapt well to living in a "human flock" setting. However, in some parts of the U.S., they are illegal to keep in as pets.1 Check with your local laws before getting one
The typical colors of an adult Quaker are a vivid green on the head, wings, and back. The bird's most distinguishing feature is the gray breast, cheeks, and throat. This coloration resembles Colonial-era Quaker clothing and is how this bird got its name.

They have gorgeous blue flight feathers and a lighter green tinge on the underside of their tails. Their beaks are horn-colored and their feet are grey. Overall, they look like a stalky cockatiel.
Captive breeding programs have also produced a variety of beautiful color mutations in Quakers. One of the most popular mutations is a blue hybrid Quaker parrot developed in the early 2000s. Breeders have also created albino, cinnamon, lutino, and pied Quakers.
This bird is a monomorphic species, which means the males and females look exactly alike. The only way to know for sure the sex of your bird is through DNA sexing or a surgical sexing procedure.
Quaker parrots are around 11 to 12 inches long and weighs 90-150 grams.